その口…なんかエロい?0.0
My friend take me this photo before cameraman come.
Necktie is not straight. XDD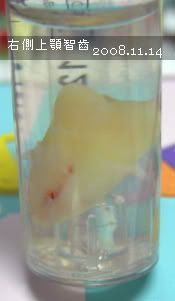 Good-bye. You know this time we gotta say good-bye.
Good-bye my tooth. I'll miss you...maybe.
It's my first time to pull out the tooth.
Thanks god, it just cost me 2 minutes.
Now my mouth is bloody, and I've swallow my blood for half of hour.
I FEEL DISGUSTING..........................

so I want you guys feel disgusting when you saw my tooth.
hahahahaha~~
Current Music:

Good bye-Jolin
No file...ㅠㅠㅠㅠ
I just saw 8mins in the end.
Subaru, I miss you...
My country failed in Olympic and Asia Professional Games (KONAMI CUP).
I love baseball.
I love to go to the field to watch a game, even I know they're not good like NPB or MLB or KBO, I still enjoy the game.
But, I don't know what to say this time when I saw a mofia(やくざ) buy a baseball team, and ask their player trick on field.
Even Japanese Team Manager know this, but look at our Baseball League!! (
News
)
They said they have no idea and they just do nothing until now, without saying "I feel so sorry about that."
You should feel sorry because you ruined it. You have chance to stop that, but you don't!! Poor CPBL.
Baseball is not respectable sport in Taiwan.
Parents who are in the high class, don't let their kid play baseball.
Poor family let their kids play baseball, because professional player can earn more money.
However, we know baseball bat, ball, and other equipments are expensive.
Most of time, the coach buy these for kids.
They love baseball, and serious in baseball.
How about school in cities, they ban baseball because it can hurt glasses even people.
I've hurt by basketball for many times, why don't you ban it?? If you want your kids be safe,
running
jogging is the best choice.
With this surrounding, people still think our national players have chance to win Japanese and Korean.
THEY ARE NOT GOD!!!
Before you ask them, try to provide a better conditions for baseball!!
I'm not sure if the CPBL will gone in next year.
My favorite team can go to the Championship contest, this year.
We're champion last year, so we're eager for continue the championship.
However, the damn mofia and poor League may ruin this.
--
This video touched me.
Current Music:

The Finale - Jolin
Cut from Music Station HD version.
Check the upper right side. ∞だよ!




2008-10-29/TECI-807/¥1,500(税込)/CD+DVD(初回限定盤A)
2008-10-29/TECI-808/¥1,500(税込)/CD+DVD(初回限定盤B)
2008-10-29/TECI-809/¥1,000(税込)/CD(通常盤)

今回の「無責任ヒーロー」は、関ジャニ∞らしい "なんとかなるさ" 的な人生応援ソングで、これからの季節、ぜひカラオケで盛り上がってほしい楽曲!
初回盤A、Bにはそれぞれ、今夏に行われた全国ツアー「関ジャニ∞ CONCERT TOUR 2008 夏だ!ツアーだ!!ワッハッハー!!!」の、8月30日の長野公演の中から、バンド曲である「BJ」「fuka-fuka Love the Earth」、そして関ジャニ∞が3組に分かれたユニット曲「desire」「torn」「ホシイモノハ。」の映像を収録。ツアーに参加できた方も、参加 できなかった方も必見です!

2008年10月4日からスタートする日本テレビ系「江川×堀尾のSUPERうるぐす」テーマソング。

(
Detail
Collapse
)
</div>
TEICHIKU Website
I think I will buy 初回B in priority.
FFF goods cost too much to me :S



ライブフォトセット
第2弾
(渋谷2種類/FiVe・個人各1種類/集合1種類)
各¥600(tax in)


!!!!!!!!!!!!!!!!!!!!!!!!!!!!!!!!!!!!!!!!!!!!
 藤田まこと(75)主演で人気を集めた「必殺」シリーズが、東山紀之(41)主演で17年ぶりに連続ドラマ化される。来年1月開始のテレビ朝日系連続ドラマ「必殺仕事人2009」(金曜午後9時)で、連続ドラマとしては92年「必殺仕事人 激突!」以来。
 東山は07年放送のスペシャルドラマ「必殺仕事人2007」に主演している。東山と73年から人気キャラクター中村主水を演じる藤田と新旧仕事人 の対決、さらに、東山をはじめTOKIO松岡昌宏(31)や関ジャニ∞大倉忠義(23)といったジャニーズ勢が出演するなど話題も多く、関東地区20・ 9%、関西地区24・0%の高視聴率を記録(ビデオリサーチ調べ)。「必殺」シリーズでも人気が高かった「仕事人」が30周年を迎えることもあり、連続ド ラマ化が決定した。主水役の藤田、松岡、大倉もスペシャルドラマに引き続き出演する。
 [2008年9月29日6時37分]
http://www.nikkansports.com/entertainment/news/f-et-tp0-20080929-413812.html
「必殺仕事人2009」ホームページ:
http://hissatsu2009.asahi.co.jp/
I do not understand this drama, actually, but it's really nice Okura get this chance ^_^
After solo live, he'll join the drama. 大変です。ㅠㅠㅠㅠㅠ